Each student brings their personal social emotional experiences into the classroom, and those experiences have an impact on both classroom culture and the pace of learning. You want all students to succeed, but how can you help each student navigate the challenges of social emotional learning?
To help you assist students in grades 3-5, regardless of their social emotional competence, we have created Adventures Aboard the S.S. GRIN, an evidence-based, online SEL curriculum that is student led. Built around an engaging narrative, SS GRIN includes a series of scenes focusing on Respect, Thinking Ahead, Responsibility, Communication, Check it Out, Friendships, and Cooperation. And if played once or twice per week, the program can be completed during a semester or a full year.
Not only is SS GRIN an engaging program, it improved social emotional skills for students in an large, independent research study. You can read a summary of the research findings here. In addition, SS GRIN has been designated by CASEL as a Promising SEL program.
Note: Adventures Aboard the SS GRIN is one of five online, SEL Interventions.
The Student Experience for Adventures Aboard the S.S. GRIN®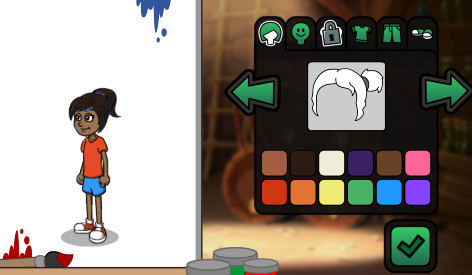 As with our other online programs, when students first log in, they will create a personalized avatar to represent their character during game play. At any time, the student can return to the avatar screen to make adjustments to hair style, skin color, clothing, etc.
From there, students learn about the history of Pacifico Island and their mission aboard the SS GRIN, to protect the seven Friendship Stones from destruction by the evil Commander Callous and the enemies of friendship.
As your students move through the program, they will be presented with a series of social emotional learning challenges. In each scene, students will decide how to engage with the other characters. They will make decisions about not only what to say but also what tone of voice to use. These dialog choices are read aloud and can be replayed multiple times prior to the student making a selection.
After the end of each scene, the student will take a short quiz to reinforce the learning from that scene.
In addition to the online learning that occurs in the game, we have a library of free supplemental lessons based on game scenes and characters. These lessons can be used in small group sessions or directly with the student.
The Educator Experience for Adventures Aboard the S.S. GRIN®
Once you log in to your Educator Account, you will create an account for each student and assign them to the SS GRIN program. It only takes about one minute to set up each student account, but if you have over 20 students, we will be happy to create these student accounts for you via a bulk upload.
To help your students get the most benefit from SS GRIN, we have created a comprehensive Scene Descriptions (scope and sequence) document that you can find on the SS GRIN page of your Educator Dashboard. This document has an overview of each scene along with learning objectives, SEL skills covered, and tips for completing scenes that may be a bit challenging.
And from your dashboard, you will be able to keep track of their progress and gain insights about strengths and weaknesses for each student.
After your students complete each scene, we will update the assessment report shown at the right. This report, along with others, is available from your educator dashboard. This data, and the data provided by the in game, daily emotion check-ins will be invaluable as you monitor the SEL skill development of your students.
Educators: It's Free to Get Started!
With a Free Centervention educator account, you receive:
Free access, for 30 days, to Centervention's evidence-based online SEL interventions for your entire roster of students!
After 30 days, all students can continue to log in and complete daily emotion check ins and access our digital Cool Down Corner. And you have an option to purchase licenses for the students that need to continue using the interventions.
From your educator account, you can continue to track progress and daily emotion check ins from your educator dashboard.
During the school year, you will receive a weekly email with supplemental SEL lessons.
Already Have an educator account? You can log in at: app.centervention.com
Students with valid accounts can log in at: student.centervention.com
Parents and Homeschool Educators:
You can purchase Adventures Aboard the S.S. GRIN for use at home here