Coping strategies are the thoughts and behaviors we use to regulate our emotions or deal with changes in our lives. These strategies are best used before an outburst happens when we realize we are becoming too emotional or stressed .
With the coping skills worksheets below, your students will evaluate a list of ten ideas and decide which ones will be helpful and which ones will not be helpful.
You can print out the worksheets, and give one to each student, or if you are providing remote instruction, share the typable PDF worksheet.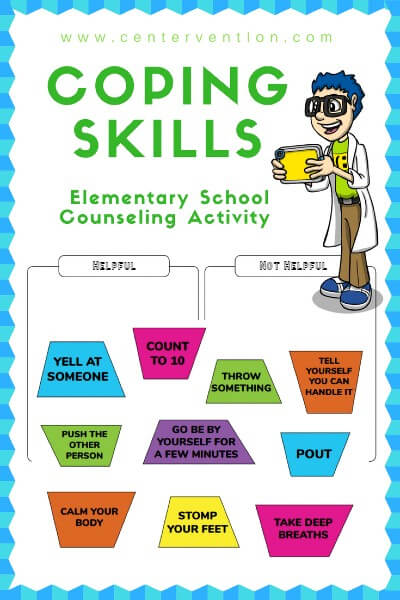 Recommended Grade Level: Elementary
SEL Skill(s): Emotion Regulation
Duration: 30 minuntes
Materials:
Coping Skills worksheet
2 Sticky notes for each student
Pencil, pen, or computer
Coping Skills Worksheets Directions
Provide a copy of the coping skills worksheets to each student and ask them to sort the ideas for calming down into two columns: Helpful and Not Helpful. They can write, type, or cut-and-paste each of the ideas from page two of the worksheet.
Discussion: After your students have completed the worksheet, have a group conversation about the ideas they decided were Helpful and the Not Helpful.
Next, acknowledge that we all may have behaviors that we use right now that are Not Helpful, and ask them to write down (on a sticky note) one thing they do that they would like to change. Then have them write down an idea from the Helpful column that they could use as a replacement.
For the idea they wrote from the Not Helpful column, ask them to wad up that sticky note and throw it in the trash. Tell them they are done with that one and to replace it with the idea from the second sticky note. Have them place the second sticky note somewhere they can easily see it.
Extra: Create a safe space in your room to cool down and make it clear to students that they are free to use it. Make this a calming space with a comfortable seat, distracting items like paper and pencil to write feelings or a stress ball to squeeze, and posters or coping skills worksheets to remind students what skills they can use to regroup.
Would You Like More Free SEL Lessons?
Join over 30,000 educators who receive our free SEL lessons each week via email.