Categories of Emotions
The list of emotions a typical pre-K child understands may be limited to happy, mad, sad, and scared (Harter, S., & Buddin, B. J.), but as they grow, the list expands, and they develop a more nuanced vocabulary to explain how they feel.
Over the past 40 years, several frameworks have emerged to describe and categorize emotions. There is the Plutchik Wheel of Emotions, Ekmans' Atlas of Emotions, and many others, but for this article, we are sharing a tree-like framework created by Dr. Phillip Shaver and his colleagues at the University of Denver.
In 1987, Shaver and his colleagues published Emotion Knowledge: Further Exploration of a Prototype Approach where they outlined a three-level hierarchy of emotions and categorized words within that hierarchy. In the paper, they identified six primary emotions: Anger, Fear, Joy, Love, Sadness, and Surprise – And they identified 25 secondary emotions and 135 words that represent more descriptive tertiary emotions.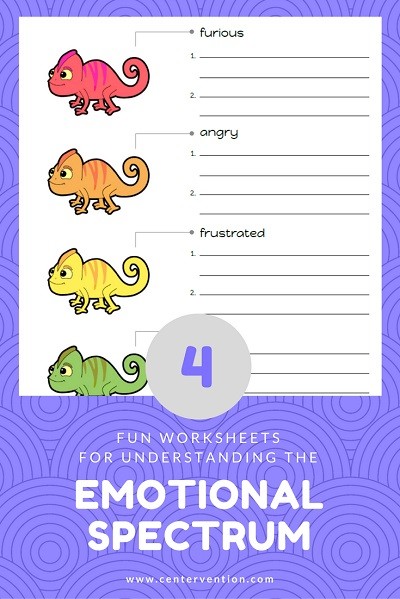 Here is the complete list of emotions and how they are categorized:
Anger

Disgust: Contempt, disgust, revulsion
Envy: Envy, jealousy
Exasperation: Exasperation, frustration
Irritation: Aggravation, agitation, annoyance, grouchiness, grumpiness, irritation
Rage: Anger, bitterness, dislike, ferocity, fury, hate, hostility, loathing, outrage, rage, resentment, scorn, spite, vengefulness, wrath
Torment: Torment

Fear

Horror: Alarm, fear, fright, horror, hysteria, mortification, panic, shock, terror
Nervousness: Anxiety, apprehension, distress, dread, nervousness, tenseness, uneasiness, worry

Joy

Cheerfulness: Amusement, bliss, cheerfulness, delight, ecstasy, elation, enjoyment, euphoria, gaiety, gladness, glee, happiness, jolliness, joviality, joy, jubilation, satisfaction
Contentment: Contentment, pleasure
Enthrallment: Enthrallment, rapture
Optimism: Eagerness, hope, optimism
Pride: Pride, triumph
Relief: Relief
Zest: Enthusiasm, excitement, exhilaration, thrill, zeal, zest

Love

Affection: Adoration, affection, attraction, caring, compassion, fondness, liking, love, sentimentality, tenderness
Longing: Longing
Lust: Arousal, desire, infatuation, lust, passion

Sadness

Disappointment: Disappointment, dismay, displeasure
Neglect: Alienation, defeat, dejection, embarrassment, homesickness, humiliation, insecurity, isolation, insult, loneliness, neglect, rejection
Sadness: Depression, despair, gloom, glumness, grief, hopelessness, melancholy, misery, sadness, sorrow, unhappiness, woe
Shame: Guilt, regret, remorse, shame
Suffering: Agony, anguish, hurt, suffering
Sympathy: Pity, sympathy

Surprise

Surprise: Amazement, astonishment, surprise
Teaching Emotional Literacy
Featured Lessons
To assist you as you help students understand emotions, we have created a series of lessons, activities, worksheets, and printables. Many of these include characters and scenarios from our online SEL interventions. While you aren't required to use our online programs in order to use the lessons, you can request a Free Trial here.
Additional Emotional Literacy Lessons and Activities
Feelings Wheel: A daily check in to help you understand how your students are feeling
The Worry Scale: Coping strategies for anxiety, worry, and fear
Mood Ring Colors: Another worksheet to help students identify emotions
Feelings Faces: A free match the emojis printable
Charades: An emotion identification activity based on the game, Charades
Telephone Game: Recognizing facial expressions and body language
Lesson Extension When Using Centervention Online Programs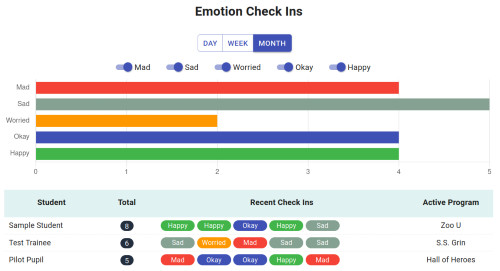 Each day, when a student log in to their online Centervention account, they will be asked how they are feeling. They can select one of the following five options: Mad, Sad, Worried, Okay, Happy.
All of these student emotion check ins are recorded and displayed in your educator dashboard where you can determine, at a glance, which students may need additional support.
And for those students that need additional support, there are 6 scenes in Zoo U and 3 scenes in Zoo Academy that have a primary focus on Emotion Regulation.
Need Something More Engaging And Effective For A Few Students?
Simply request a FREE Centervention educator account and start using our online programs!